******CONTEST CLOSED******
Mandi: Happy Birthday Cecile!!
Because you deserve all things smexy on your birthday, I have brought along Hugh Jackman to go shopping with us!
Hugh: Oooh..shopping for something naughty to wear?
Mandi: Hugh! No, well, maybe later ;) First we are going book shopping!
Hugh: Oh. Books..right. Ummmm...I would rather shop for something special for Cecile to wear...preferably skimpy and see-through.
Cecile: Yeah, that is not a bad idea...
Mandi: Cecile, focus! We will go book shopping and afterward, if you behave Hugh, you can give Cecile her birthday spankings.

Hugh: Then what are we waiting for!

Mandi: These are some books that I am sure will spike the heat in Cecile's house... Just in time for that Fall season...


Hugh: Oh, I know some ways to spike up some heat for her....
Cecile: It is downright chilly in my house. Hugh you look so hot.
Mandi: *clears throat* Concentrate people!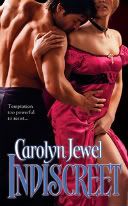 Our first selection is:
Indiscreet
- Carolyn Jewel.
Mandi: Can we talk about the back - oh that lickable back. I bet he tastes mighty fine. Hey Hugh - take off your shirt, let's compare backs.
Hugh: *whips shirt off and twirls around* What'cha think ladies?
Mandi *gulp* Wow, it is hot in here. Cecile, are you sweating? What are we doing again - oh right, books. We are just shopping for books. Hugh put your shirt back on. Wait, what am I saying!
Cecile: **is speechless and drooling right now**
~~~~~~~~~~~~~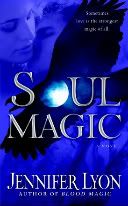 Next up is
Soul Magic
- Jennifer Lyon
Cecile: Now this woman knows how to make her men hot!!!
Mandi: I am also a big fan of
Blood Magic
, the first in this series by Jennifer Lyon. Axle was a hot alpha male.
Cecile - Oh my gosh, Ms. Jennifer did a wonderful job with the first book. The story telling and character building was amazing. And OMG... these band of brothers are freaking hot!!! Their tattoos come to life so to speak... and there are witches... and hot wing slayers... and villains... and did I mention hot wing slayer!!
Mandi: Oh the wing slayers. So alpha, so sexy. I love the world Jennifer Lyon has created. In Blood Magic we were introduced to Sutton, fellow wing slayer and I can't wait to read his story!
Hugh: Umm..ladies! You have your very own half nekkid alpha man right here for your viewing pleasure. Who cares about this Axle or Sutton guy?
Cecile: Oh Hugh, you are right... I am sorry... **Cecile pat his head... his hair is so soft...** You are right, you are right here for our viewing pleasure. And a pleasure you are... yum-Me
**whispers to Mandi... pssttt Mandi... Hugh is my personal Sex on a Stick man... what'cha think... wicked grin**
Mandi: *pats Hugh's back* Oh poor Hugh, we were neglecting you. Just stand there and keep twirling.
Hugh: I have been downgraded to eye candy. I do have other traits you know. I am an amazing actor on both film and stage! Ummm...Mandi, your hand has wandered much lower than my back...
Cecile: Hugh.. Not eye candy honey... Sex on a Stick... upgraded!!!
Mandi: So right - you are a great actor Hugh - and looked so fine when you were all sweaty and hot in the movie Australia.
Hugh: Well you know, I could ride a horse ALL day *wink wink*
Cecile: Ride a horse all day... How about you ride... ***oh no...*** Hugh as a cowboy... *** the song Save a Horse Ride a Cowboy comes to mind now*** Damn this man is hot...
Mandi: Speaking of cowboys, -
~~~~~~~~~~~~~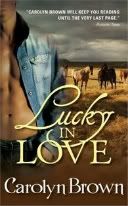 On to our next selection:
Lucky in Love
- Carolyn Brown
Mandi: I am definitely in the mood to read a cowboy romance. There is something so masculine about a sweaty man working outside, riding a horse.
Cecile: I saw this one the last month at
Blanche's
place. This is part of series right? Oh man, this book looks hot!
Mandi: Yes, a trilogy with the next two coming out quite soon!

~~~~~~~~~~~~~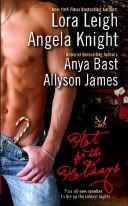 A treat for our last selection... and just in time for the holidays...
Hot for the Holidays
Anthology
Mandi: I LOVE this cover. Perfect placement for the candy cane. I wonder if there are any other treats stuffed down his pants?
Cecile: **eyes light up with glee over this picture** Oh Mandi... that candy cane sure does look delicious!! A treat never looked so damn good!
Hugh: I have a special package and you don't even have to wait for Christmas to open it.
Mandi: Hugh - I think we have unwrapped you enough for today. You know what that means?
Hugh: Cecile, get over here and assume the position. You have been a naughty girl and need your birthday spankings. *pushes Mandi out of the room*
Mandi: Hey!
Cecile: *door closes* I'll let Mandi tell you what you ladies can win... I am coming Hugh...never thought I would say that for a spanking before!
~~~~~~~~~~~~~~~~~~~~~~~~~~~~~~~~~
Since Cecile and Hugh are off doing naughty things, I
think we should have some fun. We are going to give away a copy of
Hot for the Holidays
Anthology which just came out last week!
To enter just leave a comment!
Give us your thoughts on the book choices we have up there... Or tell us what you are looking forward to.... Hell, you can ask Smexy Mandi a question, Hugh... or Cecile.
Contest open to everyone ~ everywhere.

The contest will run till Saturday, October 3rd @ the stroke of midnight.
The winner will be announced sometime Sunday ~ the 4th!
Cecile will need time to recoup from her Hugh weekend!
Stay tuned... because they are more treats to come....
Hope you are enjoying the party so far... If so, stick around for the party all month long!!!!
Enjoy your cocktails, the cake and Hugh!!!!
Have a great weekend!